more about OFF laboratory
OFF Laboratory is an independent production corporation founded in 2009 and based in Ukraine, Poland, and the USA. it is one of the most prolific, persistent, and consistent production companies in Central Europe. it has operations in areas such as film, music video, music producing, publishing, distribution, etc. OFF Laboratory was founded in Lviv, Ukraine by Oleksandr Fraze-Frazenko and Olga Fraze-Frazenko. the studio started with promotional films for a number of main cultural institutions in Western Ukraine and Poland, music videos, and commercial advertising. the first feature documentary "Chubai" premiered in 2014 with great success and made a huge impact on Ukrainian filmmaking and culture in general, bringing it to an international level.
"this is a breakthrough in the Ukrainian documentary. without pathos, panegyrics and bombast words." — Olesya Yaremchuk. "Memories and flashes" // Ukrainian Magazine, 2014, Czech Republic.
the film screened in Ukraine, Europe, and the USA. that was the beginning of a new period for OFF Lab. we started 'The Poets' Series. we decided to strive to change the mindset of Ukrainian culture. XX century transformed the world completely, Ukraine became a part of the Soviet Union and because of that our cultural process was ruined, the biggest writers, painters, philosophers, theatrical and film directors were killed or repressed. meanwhile, the Western World, as we know, was developing with the speed of light, especially its cultural process. despite the fact that Ukraine has been independent since 1991, Ukrainians' minds are still enslaved, we are afraid to be free and open-minded because of memory, which is painful. therefore, OFF Laboratory focused on Poetry, as the most universal and ancient form of art, and decided to formulate a new aesthetic canon of Ukrainian modernist poetry of XX century. not only by revitalizing forgotten and unknown poets, but to show all the main concepts that accompany them, concepts of human, love, hate, home, etc.
Since "Chubai" in 2014 about Hryhory Chubai, we did 4 more feature films (and a number of shorts) in the Poets series: "The House on Seven Winds" about poet Vasyl Makhno in 2015 (premiered in Wroclaw), was screened a number of times in the US, Europe, and Ukraine. The Complete Script is published by Harvard Books in Cambridge, Massachusetts (ISBN 978-163587459-4). "An Aquarium in the Sea" about The New York Group of Poets in 2016 (premiered in New York, then we did a festival "The Great Return of the New York Group" with poetry readings, book presentations, the film itself, and academic program as a special project of Publishers Forum in Lviv). we had a number of screenings in the US, Europe, and Ukraine. The Complete Script is published by Harvard Books in Cambridge, Massachusetts (ISBN 978-163587462-4).
​
"it's not just a documentary. it's also an art film and I think the interactions of the documentary aspects and the artistic vision of the filmmaker made it a rather unique and pleasant experience." — Professor George G. Grabowicz, from his speech before "An Aquarium in the Sea" premiere screening at Harvard University.
​
"Mister Nobody" about a poet and dissident Ihor Kalynets, made in 2017, premiered in 2018 at Molodist International Film Festival in Kyiv. "Casi Desnudo" about Yuriy Tarnawsky became the fifth feature in The Poets Series; the premiere took place on March 8, 2019, in the Ukrainian Institute of America, New York.
​
at the same time OFF Laboratory continues to work on other projects, which include movies, music, literature, performing arts, and masterclasses. we did a big socially conscious film project "I See" about blind Ukrainian activists cycling all over Ukraine. it premiered at United Nations Headquarters in New York, 2016.
the model within our company is unique; it works as a corporation and a community at the same time on a win-win basis. we are located in Lviv, Kyiv, and New York. we have done approximately 1000 film-products, produced over 50 music albums, and published a number of books. Join us!
Psychro Premiere at Molodist IFF '19
Psychro Premiere at Molodist IFF '19
Chubai Premiere 2014
our ad at the Lviv City Hall
NYG Book Archive Presentation in Lvi
Tarnawsky Book Presentation in Lviv
Aquarium Chicago Screening
Aquarium at Brattle
Aquarium Hunter, NY Screening
performing with Yuriy Andrukhovych
Aquarium Goodies!
orchestral thing
Clay Performance
Wroclaw, April 22, 2016
Aquarium at Brattle Theatre
at MIFF 2018
at Bookforum 2018
visiting Rubchak family
at Chicago Art Gallery
Milena Backstage
bckstg
Mister Nobody Backstage
Red Carpet MIFF 2018
at Les Kurbas Theatre 2017
mirroring Serhiy Proskurnia
Casi Desnudo Premiere 2019
Chubai Premiere Press Conference
training monsters
shooting Pinzel
Paperman and OFF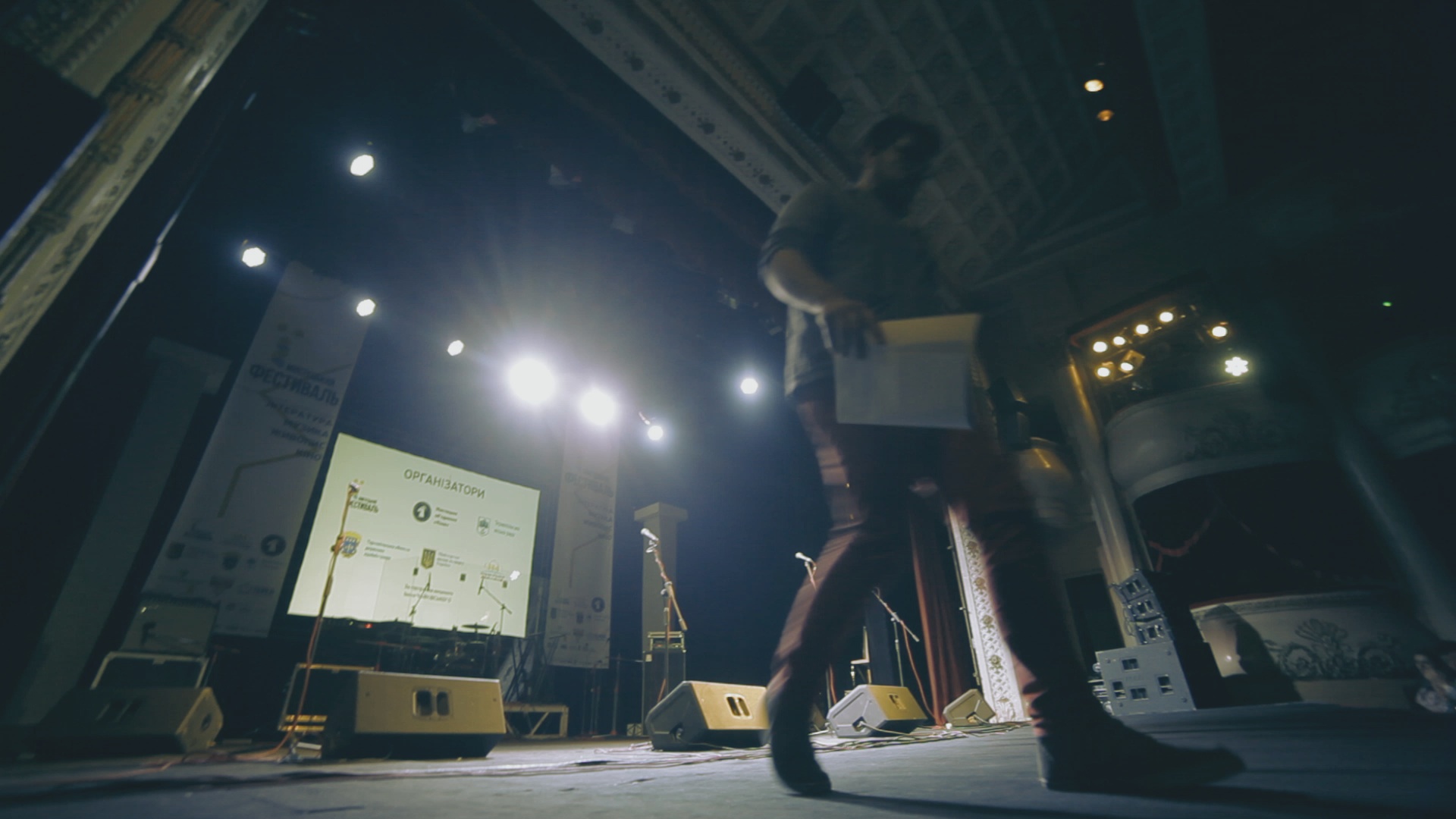 after a speach
shooting with Vlod Kaufman
Aquarium Premiere 2016
on the set